With 3 months of development, the MOC team is excited to begin Closed Beta testing on May 29th. The duration of this test will solely depend on the amount of bugs found after opening up the revamped system within a live environment. Hardcore classes will be the only classes available to prevent a significant level advantage for testers once the server moves to Open Beta.
So, what's changed? Almost every part of the engine since early-February has been enhanced and re-imagined for scale. The scripting engine has been improved to provide new encounter experiences that were impossible prior to Phase 2. Four quests (Down in the Well, Hidden Lair of the Kair-Norax, Garden of the Wanderer & Into the Haunted House) will be available at launch to assure for quality control, but will have a set release calendar.
There is still time to sign up for Closed Beta Testing by filling out an application, which also requires you to join our Discord to centralize bug reporting.
Here is what you can expect upon logging in: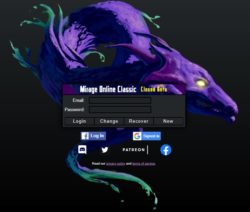 What to expect on Day 1 of Closed Beta
8 total classes

4 standard gameplay classes

Knight, Mage, Cleric & Assassin

4 hardcore gameplay classes

Barbarian, Wizard, Paladin & Ninja

Share abilities of standard counterparts with 10% stat bonuses and level reset on PvE death

Randomized treasure rewards

Variation of values, item slots & stats

Spell item slot removed; Integrated into classes and impacted by gear

Knight/Barbarian

Passive: Higher base health & non-magic defense
On-click: Immune to all damage for next two attacks
Weakness: Lower magic defense and range damage

Mage/Wizard

Passive: Higher magic defense & range damage
On-click: Magic damage based on gear
Weakness: Lower non-magic defense and health

Cleric/Paladin

Passive: Higher magic defense & range damage
On-click: Healing based on gear & ability to resurrect slain players
Weakness: Lower non-magic defense and health

Assassin/Ninja

Passive: Regain health upon killing an enemy
Passive: Higher melee/range attacks
On-click: Invisibility
Weakness: Non-range defense

New item slot: Accessory
New NPC types with name indicators

Range NPC (➼)
Magic NPC w/ cooldowns (⛤)
Healing NPCs w/ cooldowns (✟)
Boss NPCs (☠)

Reconfigurable keyboard controls

Movement, attack, run, pickup and chat

Ability to choose your respawn location after death

Guild hall, inn or various preset locations

Guilds and hall commands moved to the visual guild window accessible in the user interface

Create guild, send/accept invite, remove/promote/war/alliance
Buy hall, guild sprite & add funds to guild balance

Players in guilds now display 3 letter acronym in front of their displayed name
New weather effects
Defense and damage now separated by physical, range & magical

Any combination can be applied to any item

In-combat notification in lower right corner of game play window
Ability to change glow color of lighting effects
500+ new sprite, tile & item artwork
Revamp of the towns, quests, mobs, items & leveling philosophy

No level cap; soft cap through exponential experience needed per level

Skills & recipes removed for quality control; will return after future engine development
New admin rank: community managers

Manage chat and in-game events

Stats gained from leveling static and unique per class
Massive expansion of scripting language & engine restructured

300+ functions & 70+ call events

Accounts now require email verification
Improved mobile experience on the browser client

Several layout and gameplay bugs resolved

Inventory limit set for every item in the game

250,000 gold; 5 per unique gear item; other restrictions to be determined in testing

Enhanced security system developed

Action log & internal alert system

Consistent updates as systems are tested
A great deal more… seriously… so many small improvements that individually are underwhelming but as a whole are monstrous.