Free Browser MMO – Mirage Online Classic
Mirage Online Classic was rated the best free MMO of 2021 by the users of MMORPG.com and included in the Top 5 online roleplaying games list of IndieDB.com's Indie of the Year Awards. Within the world of our free browser MMO, there are 6 classes, 30 subclasses, 15+ skills and 20+ dungeons. Also, there are thousands of items, monsters and areas to explore. The world is in continuous development because of the feedback from the community. This free online RPG is purposely optimized to perform efficiently on any computer with unrivaled performance.
Retrelon Games created the original popular 2D MMO, Mirage Online, in 2001. Since the original's open source release, a community and many fan projects have been developed. After seeing this level of support, Consty began casually working on a new project in 2017. Eventually, this project transformed into an early alpha of our free to play online RPG, Mirage Online Classic, and evolved into a complex new HTML5 / Javscript browser MMORPG engine.
Support MMO Classes
Paladin [Tank] & Cleric [Healer]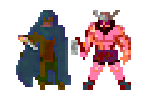 Physical RPG Classes
Assassin [Agile] & Barbarian [Brute]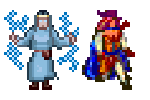 Distance MMORPG Classes
Mage [Magic] & Ranger [Range]