Free-to-Play 2D MMO – Mirage Online Classic – Browser MMORPG
Mirage Online Classic is a free-to-play 2D browser MMORPG with 6 classes. There are over 10 skills, 15+ dungeons and hundreds of items, monsters and areas to explore. MOC is optimized to perform efficiently on any computer with a web browser.
Retrelon Games created the original popular 2D MMORPG, Mirage Online, in 2001. In the two decades since it's release, a great community and many fan projects have been developed after going open source. Consty began casually working on the browser MMORPG project using HTML5 and a blank canvas in his spare time in the summer of 2017. After reconnecting with his old teammate, Consty and Rich began developing the early alpha experience of Mirage Online Classic as an HTML5 experiment that evolved into a complex new browser MMORPG engine.
Download options available for PC (via Steam) and for tablet / mobile device (Android or iOS).
For patch information, visit the Development Log or Join Discord to learn about daily minor updates!
Support
Paladin [Tank] & Cleric [Healer]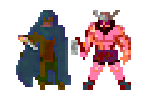 Physical
Assassin [Agile] & Barbarian [Brute]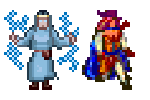 Distance
Mage [Magic] & Ranger [Range]