Free to play MMORPG – Mirage Online Classic – online browser RPG
Mirage Online Classic was rated the best free MMO of 2021 by the users of MMORPG.com and included in the Top 5 online roleplaying games list of IndieDB.com's Indie of the Year Awards. Above all, our free to play MMORPG provides unparalleled player/developer interaction with consistent updates. There are 6 classes, 30 subclasses, 15+ skills and 20+ dungeons. Also, there are thousands of items, monsters and areas to explore. MOC is in continuous development because of the feedback from the community. This free online RPG is purposely optimized to perform efficiently on any computer with unrivaled performance.
Our Free to Play MMORPG Origin Story
Retrelon Games created the original popular 2D MMO, Mirage Online, in 2001. Since the original's open source release, a community and many fan projects were developed. As a result, we developed the evolution of our original game with this new HTML5 free to play MMORPG engine.
Support Classes
The Paladin class is an absorb based tank within our browser game. They reduce incoming damage based on a percentage of damage they deliver.
The Cleric is a traditional online MMORPG support class with a passive heal based on a percentage of damage dealt.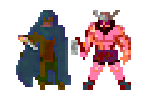 Melee Classes
The Assassin class is an agile fighter using swiftness and the element of surprise to get the kill in our free to play MMORPG.
The Barbarian class utilizes brute force to smash it's foes into pieces. Make quick work of your enemies in our browser game with this class.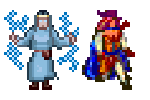 Range Classes
The Mage class specializes in magical projectiles. They can create large area explosions to do mass damage within our free online game.
The Ranger class specializes in ranged projectiles. They are capable of dropping bombs, traps or calling for his best friend, a vandal.